'Brighty visits the ex-Empire' (and the ex-Empire (like the bike known as the ex-wife?) attempts to Strike Back, but alas there is a power cut, so maybe you wait til tomorrow).

EPISODE 1
Riding an Enfield is like not like making love to a beautiful woman
Hello
Quick mail from Leh/Ladakh/India. all is ok here. My guts feel like how the 'pose' runs. Just about made it here in 3 days from Manali. Great scenery, great roads, superbly friendly helpful people, really good to be here. The dogs don't chase bikes either.

Will stay here a week. Will probably take a jeep tour to interesting outlying thises, thats and the others as well as chilling. Am seriously considering putting the pose on the back of a truck back to Manali. Paul's Enfield is running ok, but needs a new spark plug every 100km. what can I say that is positive about my pose? Let me think... sorry, can't. Oh yes, low centre of gravity... exhaust noise is good too. Like mine.
Hope all is good with you. Haven't read the news. Probably not missed much either.


EPISODE 2
Viva las bananas
Today, we're back in Leh. Heading back towards Manali tomorrow. Are only having problems with the Enfields. Electrics, dropped valve, blown piston rings etc etc. spent 8 hours in the back of a truck yesterday getting both bikes back from the road to Pangong Tso yesterday. We never saw the lake :((
For a nation that produced such engineers as Issy Kingo Brunel and Bob Frenchy Stevenson, how we ever designed and built such pile of sh*** as the Enfield 'bullet', also known as the 'wet sponge' is beyond any sane human's comprehension. Hopefully we can get these dog tur*s back to Manali within 3 days.
Hope the Indians write better software than they build motorcycles! That's what my dissertation is on. Software, not mcs...
I'll probably take a bus somewhere else. Maybe Rajastan. Have no intention of touching an Enfield after Manali, beyond dowsing it in petrol and putting a match to it.
Having said all that, the views are superb, people genuinely great and the food not bad, if a little runnypoo generating. Have yet to sample the local herbs. Maybe later. Probably never.
The views are great, wonderful people. All that's missing is a reliable motor. Maybe a BMW? Please yes, anytime ; ) Better a light Jap. Then it would be fun. The Enfield dog is truly spoiling the trip. Will soon be shot of it, so all is good.

EPISODE 3
Chilled and confused
Arrived back in Manali last night. In the rain. In the back of a truck. Why?
At 5pm, just over the Rotang Pass (4000m) in big cloud and lots of rain. Down hill in 2nd gear. Taking it real easy. The engine stalls, the back brake doesn't work (the front hasn't worked since Leh... peter Fonda's bike in easy ride never had a front brake either.). Heading towards a right-hand hairpin bend. Luckily the back wheel had seized so badly, the bike skidded to a stop before the edge and before I had to consider driving into the hillside to my left or dropping the bike (nice friction: steel on wet tarmac).
Waited half an hour in the hail and rain until a pickup came by. What fun. Bouncing up and down with petrol seeping out of the tank. The fumes.... mmmmmmh..... And it only cost 300 rupees for the lift!
Am chilling today. Getting the bike repaired before I return it. The whole inside of the back wheel is Donald Ducked. The front turns kind of funny too. Great exhaust sound though.
Will probably take a bus somewhere. Spiti Valley and McLeod Gang/ Dharamsala. a week in each. Then down to Delhi and a couple of interviews with some SW people.
Then back to Brighty, errrr I mean Blighty.
People and views are still great. The views on the way back were superb. Glaciers, snow, windswept plains, steep 'roads', mud, dust, rock, wildlife, goats, cows, the lot. Manali is below the tree line. Lots of stuff grows here.
Joolay
All the people smile. Some just stare. But then you smile at them and say 'joolay', which means 'hello', 'goodbye', 'thanks', 'I think your wife looks a fine woman', 'your cat must like chasing mice', 'aren't Enfield's great thoroughbred machines' etc and they all say
'joolay' back and smile. Even got a free spark plug socket from a mechanic. he refused to accept my money. Also got Paul's rear break line welded for free by the Indian army (plus 3 cups of chai). Luckily he was riding up hill when it snapped.
Also had 3 punctures in one day. only had 2 spare tubes. Abandoned my bike on the plain and hitched to the nearest tent village. As I already have a PhD in BMW, I can say I have at least a MSc in Enfield. Maybe I can get one in IT too.
EPISODE 4
After Whiskey, Driving Risky

Hi team
Sorry I've been out of touch for so long. On my last little jolly through Lahul, Spiti and Kinnaur, there were no internet cafés to be found. I could have have dotdotdotdashdashdashed you on the Morse code machine in the police checkpoint in Losar, but that would not have been appropriate, I think.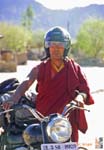 Furthermore, I have been back in Manali for 3 days now and haven't written. Another very valid excuse: Bollywood called and I answered! I sh*t you not. Yep, I'm a star in their new movie called 'Yaara', which is one of the Hindi words for 'Friend'. See the clip of me in the main India overview section! It is about an Indian lad who meets a western girl and falls in love, follows her from Mandi to Kullu to Manali to Leh in Ladakh, finds the meaning of life etc etc. I played neither the Indian man, nor the girl, but Britney was standing centre-scene (filmed in Old Manali) and I rode a Rumanian chap's shiney chopper looking Enfield through the scene, called another fellow over and chatted for 20 or 30 seconds about whatever, shook his hand and drove off. The fortunate or unfortunate thing is that you only ever saw the back of my head. The film is scheduled to be released next March or April. I'll be hanging out at the Indian Video rental shops in (Come friendly bombs fall on) Slough then.
The road sign said it: Don't consume any Johnny Walker Red and attempt to negotiate an Indian road along with all the other professional road users. I have to say, no matter how friendly the people, once they get behind the wheel of a vehicle, Indians become even worse drivers than US-Americans or Brazilians. Possibly only the Egyptians are on a par with the Indians in their complete lack of driving skill.
Drive on Horsepower, Not Rum-power
Many of them have had a jar (Drive on Horsepower, Not Rum-power), popped amphetamines, had a smoke or a combination of all the above before they get behind a steering wheel. The rest are basically stupid. With a population of over 1 billion souls, there is plenty of scope for mouth-breathers. Your average donkey or holy cow could manoeuvre an internal combustion engine powered motor vehicle better than them.
Other street signs included: Better Mr late, than the late Mr.... Stop gossiping, let him drive.... Be gentle on my curves... On my curves, don't lose your nerves.... Apologies for Ohhh Ahhh Ouch.... There shall be no accidents today.... And my favourite: When the going get's touch, the tough get going (remember the Billy Ocean song?)
The bike is now called 'Britney'. Every hot-blooded male (including me?) calls his steed/ babe-magnet-wagon by a female's name. The thing, formerly known as 'Pose' (Pile of pooh Enfield) is now called 'Britney' as in 'Spears'. I spotted a few kids wearing her T-shirt. I asked them, whether they were fans, but they didn't know who she was. Just as well, I suppose.
My ex -'Bring Mir Werkzeug'- bike was various called 'Wife', 'Ex-wife', 'Goaty' and 'The Fat Lady'. To call this one Britney is fitting: It has a nice exhaust sound, is always sick but never terminal and if it has an implant, might one day grow to be a BMW.
In the last mail, I suggested I had had enough of Enfields and would take a bus south. Mr Ed of Bristol appealed to me not to 'go down too early'. His wish is my command (ever obedient servant etc...): Hence, I've been the perfect gent and only snogged tall jagged mountain peaks. No steamy jungles or deserts for me on this trip.
Britney behaved surprising well. The battery ended up shorting out, but even with just the most minute of juice left would still start first kick. I did Donald Duck the clutch plates riding up a landslide to Sarahan. The waiting and watching truckers were impressed as to my uphill mud riding technique. Even got a round of applause. The end result was another truck ride to a mechanic! Marvellous. Conveniently I was carrying a spare sent of clutch plates. Apart from all this, Britney ran like a dream. Still no speed, but gentle on the throttle and she'll drive all day.
3 things have changed since my last less than complimentary message on Enfields. Paul went back to England. Norman (my little Malawian wooden good luck charm) got taped onto the top of the headlight (He had been in my bag previously). And I paid 20 or 30 quid to have the bike fixed.
Paul not being there had no effect on my luck I'm sure, but not having his stupidly prepared by a negligent hire-company mechanic bike made the likelihood of problems less. Spending a lot of cash (by Indian terms) on my bike made it much more reliable (Why didn't Rajeev, Peter's mate have my bike sorted like I asked?). Having Norman on the front definitely made all the difference though!!!
Howards 5000 Super Extra Strong Lager, strength 5.25% on average, maximum 8.75%
The ride round the Lahul, Spiti and Kinnaur circuit was great. The first half better than the second. Views of high peaks, raging torrents, Monasteries, people and donkeys disguised as trees etc. Shame the running gear on the bike wasn't up to the horrid road. At the Dankar Monastery some genius locked me in. Nobody heard my shouts, so before resorting to kicking the door down (the place is more than 1000 years old!), I decided climb onto the roof to attract someone's attention. This was successful, but on my way down to ground level, the corner of the mud roof did 'fall' off! I suppose they are lucky that their door stayed in tact.
Tabo Monastery was great too, but I had to avoid drinking the local brew: 'Howards 5000 Super Extra Strong Lager, strength 5.25% on average, maximum 8.75%'. At that altitude, agua seemed a better bet.
One thing you must know. Fully loaded 15bhp 350cc Enfields are no good at riding up waterfalls. This one was a glacial run off coming down a road with was about a 40 degree incline. Big boulders and about half a metre of water depth. I made it half way up and got stuck. Luckily there was a car stuck at the top (about 1 vehicle per hour passed me!) and the occupants gave me a push. Then again, they had no choice, because I was blocking the road!
Britney went first
There were quite a few landslides. Most weren't a major issue, because the road crews do a great job up here. There's one though, that washed about 1km of road away in 2000 and since then there is a cable and a trolley over the gorge. It is so far across, you can't see the trolley station on the other side. British Health and Safety officers would have a coronary attack if they saw it. In the famous words of our own Prince Phillip (Chuck's dad... Queenie's fella... You know the one). "This looks as if it were made by Indians". Too true.
Britney went first. Seeing the bike shoot off down this dodgy wire had me grinning all day. I followed. It was risky (despite lack of whiskey consumption), but 2 minutes in a trolley versus 2 or 3 hours walking down and up rocky slopes had me convinced that paying 50 rupees was a good idea. After this there followed another big landslide with rocks still falling. The Indian Army came to the rescue again. Me and 7 squaddies pretty much carried Britney through the landslide.
So now I'm back in Manali among the cool people. Unfortunately I can say I am no longer cool. Was I ever? I would need to talk loudly in language of Occupied Palestine, have long frizzy hair, wear orange robes and blue tinted sunglasses, as well as smoke noxious weeds. I fail on all 5 counts. Can't speak Hebrew, am bald (although from the back I look very much like John Malkovitch), wear boring jeans and motorbike jacket and only own plain black shades. Also only beer has passed my lips.